How to copy PS2 games, burn PS2 games and play legal backup copies on PS2? In this article, I would show you step-by-step guide to copy/burn PS2 games and play copies, and let you easily protect your investments against damage caused by children, scratches or by frequent use. The guide includes two parts. One is to copy PS2 games, the other is to play PS2 backup game copies. The detailed steps are as follows.
Key Features:
Brand new easy to use interface featuring one-click style
Supports graphic themes allowing you to customize the look and feel
New reading and writing engine supporting both CDs and DVDs
Works with most hardware, optimized for high quality CD/DVD writers
Supports a large number of formats: BlindWrite 4.x (.BWT), CloneCD (.CCD), Iso images (.ISO), Cuesheet/Binary (.CUE/.BIN), Alcohol (.MDS)
Voice notifications for program events
Extended log information for easy technical support
Multilingual support
Copy/burn PS2 games:
Step 1. Free download game copy software - BlindWrite
http://www.sharewareguide.net/Audio-Multimedia/DVD-Tools/blindwrite----cd-and-dvd-copy.html
run it
Step 2. Click the "Copy" button from the left side options. Select the source and set output path.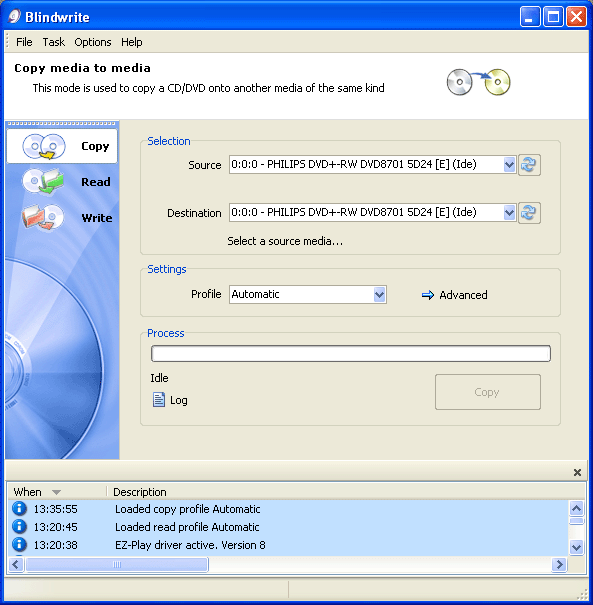 For "Source", The drive containing the disc you want to copy, use the
to select a different drive. While the correct drive is selected, the media information like media type will be displayed under the source selection box. To manually make the software check the drive, press the
button.
For "Destination", this is the writer you want to burn the image with. If you plan to write the image with a different writer, click the firs
icon on the right side of the "Destination" box, this will allow you to select a different writer. To chang the writing speed
(once media detected), use the
icon on the far right of the "Destination" box to select the desired writing speed.
For "Profile", we recommend to select the "Automatic" option as it will do for all disc types.
For "Log", clicking "Log" will open the BlindWrite log file, you can open the log even if the software is writing a disc.
Step 3. Click the "Copy" button (bottom right) to copy a CD/DVD onto another media of the same kind.
Note: There are three modes you can choose. "Copy" (Copy media to media), "Read" (Extract an image from a CD/DVD), and "Write" (Write a HDD image of a CD/DVD). Here I only introduce the "Copy" mode.
Read: This mode is used to extract an image from a CD/DVD.
Write: This mode is used to write a HDD image of a CD/DVD
Play legal backup copies:
In order for your PS2 system to play backup copies, it must be modified to overcome its built-in protection. There are two ways to accomplish this. One is to install a PS2 Mod Chip into your system's console, allowing you to play backup copies of your games. The other is to obtain PS2 boot discs.
1) PS2 Mod Chips
Installing most PS2 Mod Chips is a complicated procedure that requires you to open your console to solder several wires. If you don't have a background in soldering, hire an experienced electronics professional. If your mod chip is installed wrong, you'll be in the market for a new gaming console.
2) PS2 Boot Discs
Before inserting your backup copy, place these discs in your PS2 console. This method doesn't require cracking open the console case or soldering wires, and so does not void your warranty.
Related Articles